June 10, 2018
June Brings in a Double-Header!
Boy was this past weekend a busy one! We welcomed two new spectacular foals to the farm! I am so proud of my girls for constantly passing on their great characters and high quality in their offspring!
Nolivi K.F. 06/08/18. (Olivi/Sir Sinclair)
I am so thrilled that Aloha had a safe and healthy delivery, and am just in love with this boy. Nolivi is by Olivi (Jazz/Aktion), sire of the famous UB40 who until his recent passing stood at Iron Springs Farm in Coatesville, PA. Nolivi is confident, brave and loves attention. He honestly has the strongest hind end that I have ever seen on a newborn foal. I think this boy will have no problem reaching the upper levels of dressage like his half-sibling, Encore! I cannot wait to watch him do great things!
Nokia K.F. 06/09/18. (Grand Galaxy Win/Hotline)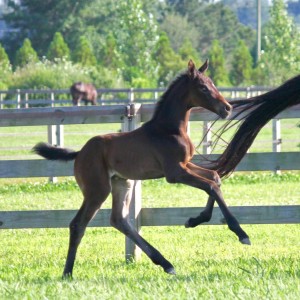 LOVE, LOVE, LOVE this filly!!! She is everything I look for in a top foal.. long-lined, leggy and super movement. Check out her sales page and you will see what I mean! I am so tempted to keep this filly in my broodmare band, but I really think she has IT, and I would love to see her go to a professional or top level rider that can bring out what I know is in her!!!!

May 28, 2018
Welcome Netflix K.F.(Don Olymbrio/Tuschinski)
Today we welcomed the first foal of the season and he is super! Netflix K.F. is by Blue Horse Don Olymbrio (Jazz/Ferro) out of the lovely Diementa CL (Tuschinski/Rousseau). As much as I love having the "Bria" line in my own broodmare band, I am really liking it coming down in the sire line through Don Olymbrio as well. What a super character and fantastic mover this boy is! I think Diementa outdid herself with this boy!!!!
Netflix K.F. is FOR SALE! Definitely make sure to check out the sales page for more information and current photos/videos!!

December 22, 2017
First Date for 2018 Booked
I am super excited to announce that I have officially booked my lovely young maiden mare, Karisma S.E. (Negro/Jazz) to Gaudi SSF (Totilas/DeNiro/Romancier) for a 2019 foal. This foal is going to have a Olympic star pedigree and I cannot wait to see it! Stay tuned for updates as they come along!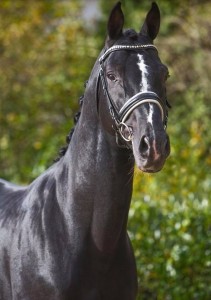 December 13, 2017
Amy Miller and Encore in the News
Super proud breeder moment when I learned that Amy Miller and Encore have been listed to the US Equestrian Development squad of horse and rider combinations. Encore (Jazz/Sir Sinclair) is the first foal I bred out of my lovely mare, Aloha S.E. He has found his perfect partner in Amy Miller from the start.  It has been a great pleasure to be able to follow their journey together. I cannot wait to hear more amazing things from the two of them in the future.
Read more about it here…
September 16, 2017
Mokabria K.F.
Third Overall at KWPN-NA Keuring at Iron Springs Farm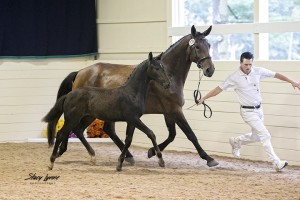 Mokabria was invited back into the championship ring at the KWPN-NA Keuring at Iron Springs Farm on September 5, 2017, where she was awarded 3rd overall in a truly competitive class of foals. The judges felt she was a well-muscled, correct foal with a good canter and powerful hind end. I could not be more pleased with how this little girl handled all the excitement. She is a very special girl!
Update:  Mokabria has sold to rider/trainer Heather Oleson of Heather Oleson Dressage.  I am super excited to follow the success of these two in the future!
September 13, 2017
Playing Catch-Up (Part 2)
Year of the Fillies!!!!  2017 was a year for fillies here at Kaneques Farms.  Within one weekend, we welcomed two beautiful girls, both of which I am super excited about….
Malibu K.F. (Hollywood DG/Tuschinski) 06/02/17
Malibu is by the Rock Forever grandson, Hollywood DG, out of our new mare, Diementa CL (Tuschinski/Rousseau).  She is a beautiful, leggy and refined girl with just the right amount of sass… and just like her mother, can she MOVE!!!!  We lovingly call her Barbie Doll, and she is just about everyone's favorite.  Check out the sales page for more information!
Mokabria K.F. (Olympic Ferro/Hotline) 06/04/17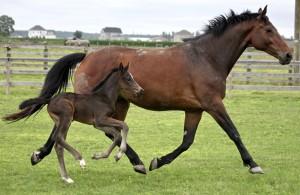 Mokabria has won my heart from the moment she hit the ground.  She has been super correct in both movement  and conformation, and has the absolute best brain.  She watches everything before she tries something new, and then when she does try it, she does it perfectly.  Mokabria has Olympic influence from both sides of her pedigree, with her sire, Ferro having competed in the 2000 Olympics and her great Aunt, Barbria  having competed in the 1996 Olympics in Atlanta.  I am so excited to see what the future holds for this girl, because I think it is going to be very bright!
September 13, 2017
Playing Catch-Up (Part 1)
I am long over-due in updating this website and have so much to share with everyone!  First and foremost, I would like to introduce everyone to our newest addition to the Kaneques Farm Broodmare Band!  Last fall we welcomed the beautiful mare, Diementa CL to our program.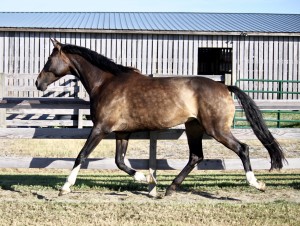 Diamenta CL (Tuschinski/Rousseau) is a 2008 Ster/Provisional Keur, PROK mare out of the super strong "iementa" mare-line in Holland.   She received super scores at her keuring as young horse, especially for her trot and canter.  Diementa also successfully competed in the 2012 Pavo Cup Finals in Holland, placing in the top 20 – holding her own against competitors like Dream Boy, Don Tango and Dark Pleasure.
Diamenta (or Cali, as we like to call her) has already won her way into the hearts of everyone here.  She had a beautiful filly this spring and has proven to be a fantastic mother.  And boy, can this girl MOVE.  She is truly jaw-dropping.  I am so excited to have her here and part of our program!
July 28, 2016
Breeding News!
We have some exciting updates for our 2017 line-up.  To date we have seen heartbeats for the following:
Aloha S.E. (Sir Sinclair/Wanroij) in foal to Broere Jazz (Custom Foal)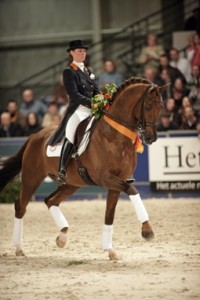 Dateline S.E. (Hotline/Contango) in foal to Olympic Ferro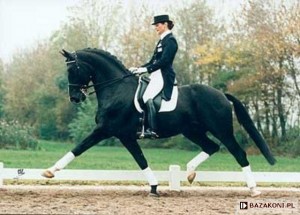 Although it is still early, I am super excited about both of these combinations.  I feel that they will be simply spectacular!  Next spring simply can not come fast enough as far as I am concerned!!!!!
---
May 06, 2016
Breeding is Not for the Faint-Hearted!
This year we experienced an extremely unfortunate streak of bad luck with our breeding program. At day 294, we lost our Charmeur/Hotline foal to an umbilical stricture, and then we lost our Governor/Sir Sinclair foal due to complications at birth. It has been incredibly heartbreaking for both us and our girls. But we have faith in our vision as breeders and have pulled ourselves up, brushed the dirt off our knees, and moved forward — looking positively towards the future. Stay tuned for news on next years' foals as things develop!
---
February 06, 2016
2016 KWPN-NA Annual Meeting at the KWPN Stallion Show in Holland
Thanks to The Dressage Foundation and the Elysium Farm Fund for Breeder's Excellence, I was able to attend the KWPN-NA Annual meeting which took place this year alongside the KWPN Stallion Show in Den Bosch, the Netherlands. What a fantastic opportunity it was for me to be able to meet with fellow KWPN-NA breeders, as well as see some of the "best of the best" that the KWPN in Holland is producing. It is not very often that I get the chance to see so many high caliber horses in one place. My personal favorite was the Apache son, Indian Summer. Wow, wow, wow. I sure hope he becomes available to us US breeders at some point in the future.
At the stallion show I was able to see both Governor (Totilas/Jazz) and Charmeur (Florencio/Jazz) go under saddle — making me even more excited for their foals this upcoming spring. I also have a few ideas as to future stallions I might consider for my girls! All in all, it was a fantastic experience and I am so thankful that I was able to participate. Thank you so much Dressage!!!
(For more information on The Dressage Foundation, and to see the article I wrote about the event, please visit www.dressagefoundation.com)
---
January 05, 2016
Welcome Karisma S.E.
2016 begins with the addition of a new member to our broodmare band here at Kaneques Farm.  Please welcome Karisma S.E., a 2015 KWPN-NA filly by Negro out of a Jazz mare.  Karisma S.E. was bred by my good friend and mentor, Siegi Belz-Fry of Stall Europa and brings with her a pedigree filled with Keur, Prestatie and Preferent titles.  Her sire, Negro (Ferro/Variant), is the sire of top dressage horses all over the world, including world record holder, Valegro, ridden by Charlotte Dujardin.  This impressive stallion is known for passing on his power and ability to sit to his offspring.  Karisma's damsire, Jazz, needs no mention.  Jazz has been at the top of the WBFSH breeding rankings for many years, with offspring dominating the highest level of dressage worldwide.
Karisma S.E. brings with her an interesting pedigree to add more depth to our breeding program.  We are super excited to watch her grow up at the farm, and see the fantastic offspring she produces in the future!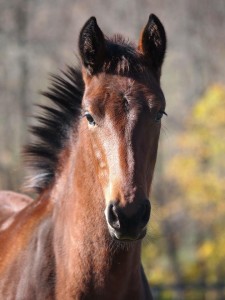 ---
January 01, 2016
Congratulations to the New Owners!
Congratulations to the following new owners:
Rebecca Douglass on her purchase of Kodiak K.F. (Sir Donnerhall/Hotline).  I am so excited to see this handsome boy all grown up one day!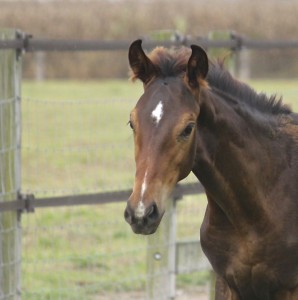 Carola Waag on her purchase of Kahlua K.F. (Sir Donnerhall/Sir Sinclair).  Kahlua will be growing up with us here at the farm for a while before she makes the long trek out west!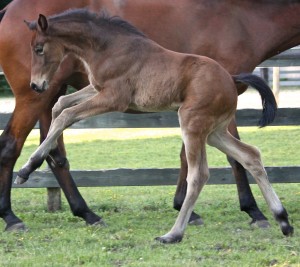 ---
September 26, 2015
Upcoming Line-Up for Spring of 2016
I think it is time to announce our expected foals for spring of 2016.  I am super excited once again for these combinations.  See for yourself:
Governor (Totilas/Jazz) with Aloha S.E. (Sir Sinclair/Wanroij)
Charmeur (Florencio/Jazz) with Dateline S.E. (Hotline/Contango)
---
September 17-20, 2015
Encore (By Jazz o/o Aloha S.E.) wins the CDS Open 6-Year-Old Futurity with a combined score of 72.078%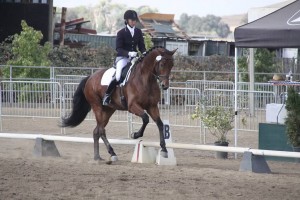 Encore continued his winning ways this year yet again under the wonderful stewardship of his owner/rider Amy Miller of Amy Miller Dressage. The pair put in two solid performances at the Annual CDS Championships to win the Paquita Parker Perpetual Trophy in the CDS Open Six-Year-Old Futurity with a combined score of 72.078%. This is an "Encore" of their previous year's win at the CDS Championships in the 5 Year Old Futurity class. Amy and Encore make such an amazing pair. It is so fun to be able to watch them grow together. I may have bred this boy, but I think all the credit goes to Amy for her fantastic abilities as a rider. And, of course, credit definitely goes out to his momma — Aloha S.E. for making such fine babies!!!!
Congratulations Amy and Encore!  
---
September 2, 2015
Kahlua K.F. (Sir Donnerhall/Sir Sinclair) Named Champion Dressage Foal at Iron Springs Farm Keuring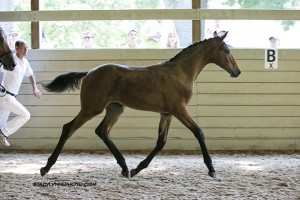 Kahlua K.F. had a fantastic showing at the KWPN-NA Keuring at Iron Springs Farm today where she not only earned the coveted First Premium Ribbon, but was also named Champion Dressage Foal and overall Highest Scoring Dressage Young Horse.  What a great honor!
Kahlua took everything in in stride.  She loved being in the arena showing off her stuff and kept her temperament through the entire event.  This little girl is going to be something really special. I can tell.  The judges loved her suppleness, light-footedness, and her high level of joint articulation.  They commented on her well-muscled top-line and modern body type.  We are so proud of this girl!
This girl is for sale — see sales page for details.  Kahlua K.F. will be a fantastic addition to any breeding program, but I am also super excited to see her show off in the competition ring!
Photo Courtesy: Stacy Lynne Wendkos
---
July 16, 2015
2015 Dressage Foundation Elysium Grant for Breeder Excellence Recipient!

Today we learned that we have been awarded $1500 to apply towards the 2016 KWPN-NA Annual Meeting at the KWPN Stallion Show in Holland next February.  What a great honor!  Following is the press release given by the Dressage Foundation: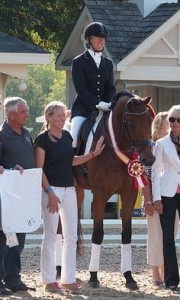 Newsroom
TDF Awards Grants from Elysium Farm Fund for U.S. Breeder Excellence
Posted on 07/16/2015
TDF Awards Grants from Elysium Farm Fund for U.S. Breeder Excellence
The Dressage Foundation is pleased to announce two grant recipients from its Elysium Farm Fund for U.S. Breeder Excellence; Lisa Dickman (VA) and Gina Leslie (NY).
The Elysium Farm Fund for U.S. Breeder Excellence, established at The Dressage Foundation in 2011 by Abbey Henderson, owner of Elysium Farm (MA), provides financial assistance to breeders to pursue educational opportunities related to breeding that will advance their careers, promote sound breeding practices and further enhance the quality of U.S.-bred dressage horses.
Lisa Dickman was awarded $1,500 to attend the KWPN-NA Annual Meeting alongside the KWPN Stallion Show in Holland early in 2016. Lisa says, "I am thrilled at the opportunity the Elysium Farm Fund has afforded me. I hope to use this experience to gain more insight into current breeding trends in Europe, which I can apply to my own breeding program and share with other North American breeders, as well. It is so important to have these kinds of programs available to American breeders, like myself, in order to enhance the quality and competitiveness of U.S.-bred dressage horses."
Gina Leslie was awarded $1,500 to attend the Breeders Orientation Course in Germany, held by the Hannoverian Verband in October. "Our goal at Sandpiper Farm is to produce sport horses with good minds and correct conformation for longevity in the show ring – horses with strong hind ends, clean throat latches, strong top lines, and freedom of the shoulder. Attending the Breeders Orientation Course will enable me to see hundreds of stallions during the tour. I feel that the more horses a person sees and judges, the more he or she develops a better eye for movement and conformation."
Thank you Dressage Foundation