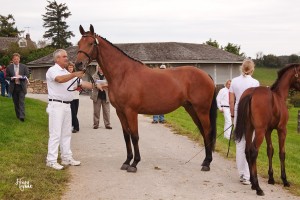 Aloha S.E.
2005 KWPN-NA
Sir Sinclair/Wanroij  
Aloha S.E., is by Sir Sinclair — a stallion well known for passing on his fabulous temperament and quality movement. Just this past year, Sir Sinclair was awarded Keur status by the KWPN in Holland, based on the strong success of his progeny.  Aloha's dam, Kadence – by Wanroij, is one of a small handful of mares in the US who have earned Preferant Status with the KWPN.
Aloha S.E. is a fabulous mare, and proven producer. In 2010, she was North American Champion of the DG Bar Cup for 5 Year Old Dressage Horses and has already had 2 Champion foals at their Keurings in her short breeding career.  Aloha is also approved in the Main Mare Book – Oldenburg Horse Breeders Society (GOV)
Encore – 2009 First Premium colt by Jazz (owned by Amy Miller)

2009 – Champion Dressage Foal at Irons Springs Farm Keuring. # 2 in the Country for KWPN-NA Keuring Tour
2013 – Reserve Champion:  USEF/Markel National 4 Year Old Dressage Championship at Lamplight
2014 – 4th Place:  USEF/Market National 5 Year Old Dressage Championship at Lamplight.  Highest Scoring US Bred 5 Year Old.
2014 – Champion CDS 5 Year Old Futurity
2015 – Champion CDS 6 Year Old Futurity

In Tango K.F. – 2013 colt by Don Tango (Owned by Joan Smith)
Kahlua K.F. – 2015 First Premium filly by Sir Donnerhall (Owned by Carola Waag)

2015 – Champion Dressage Foal and Highest Scoring Dressage Youngster at Keuring at Iron Springs Farm

Nolivi K.F. – 2018 colt by Olivi
---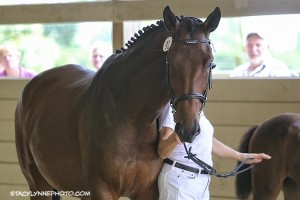 Dateline S.E.
Hotline/Contango/Doruto
2008 KWPN Registry A
Dateline S.E. is a tall, powerful mare by Hotline, a fantastic stallion who has proven himself competitively at Grand Prix as well having had 9 approved sons and countless offspring successfully winning in the show ring. He is well known to pass on size and great temperament under saddle.  Dateline herself stems from the famed Bria mareline in Holland.   Her great aunt was none other than the famous Olympic Barbria — competing successfully in the 1996 Olympics in Atlanta and helping to secure Team Silver for the Dutch.  Dateline S.E. is also approved in the Main Mare Book – Oldenburg Horse Breeders Society (GOV)
Headline K.F. – 2012 Colt by Ampere (owned by Lisa Marie Bishop)
Jade K.F. – 2014 First Premium Filly by Tailormade Temptation (owned by Steve Higgins)
Kodiak K.F. – 2015 Colt by Sir Donnerhall (Owned by Rebecca Douglass)

Mokabria K.F. – 2017 First Premium Filly by 

Olympic

 Ferro (owned by Heather Oleson)

Placed 3rd overall in a very competitive foal class with top scores of 79 for conformation and 79 for movement

Nokia K.F. – 2018 Filly by Grand Galaxy Win
---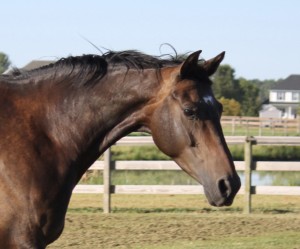 Diementa CL 
Tuschinski/Rousseau
2008 Ster/Prov Keur PROK mare imported from Holland
Diementa CL is a fantastic moving mare with a super kind disposition.  She is by the famous Dutch Stallion Tuschinski, who is by none less than the world famous Krack C… a serious grand prix competitor at international level with Anky van Grunsven. Tuschinki scored super-high scores at the Dutch KWPN stallion selection and was the sire of the Dutch National Foal Champion in 2005 and 2006, along with siring the renowned stallion, Tailormade Temptation.  Diementa's damsire, Rousseau, needs no mention… having been the flagship stallion for Hassler Dressage.
Diementa had a fantastic undersaddle career before joining us as a broodmare.  In 2012, she competed at the Pavo Cup in Holland, earning a respectable place in the top 20 before being imported to the US.  We are looking forward to having many foals from this lovely mare!
Malibu K.F. – 2017 Filly by Hollywood DG (owned by Ingrid Martin)

Netflix K.F. – 2018 colt by Blue Horse Don Olymbrio