Nokia K.F.  (Grand Galaxy Win/Hotline) – 06/09/18
Not Currently For Sale
Top quality KWPN filly by the fantastic stallion Grand Galaxy Win (Apache/Jazz).  Grand Galaxy Win is an ultra-modern, lustrous black young KWPN stallion by Apache, the KWPN Grand Prix newcomer. He stands at Helgstrand Dressage in Denmark, and in fact is the first stallion in Denmark by Apache. Due to his type and movements, Galaxy is a young stallion with great potential. He is by the recognised elite mare Winner T, who is by the Grand Prix stallion and breeding magnate Jazz, and therefore, a full sister to the Prix St. Georges horse Volvo. In the third generation, we find the well-reputed Zeolit, sire of numerous Grand Prix offspring, e.g. Gomerant, Oscar B and Lawoel.
Nokia's dam, Dateline S.E., is by Hotline, who has also proven himself competitively at Grand Prix as well has having 9 approved sons and countless offspring successfully winning in the show ring. Dateline herself stems from the famed Bria mareline in Holland, where her great aunt was none other than the famous Olympic Barbria — competing successfully in the 1996 Olympics in Atlanta and helping to secure Team Silver for the Dutch.
Nokia has all the makings for a fantastic, modern dressage prospect. She has lovely movement, great joint articulation and reach. She is confident and as sweet as they come!  I think this is a super filly with the movement to take a professional or top rider all the way.  She is really going to be one to beat in the show ring! Nokia's bloodlines also make her a huge asset to any breeding program with Apache, Jazz, Contango, Doruto, Hofrat, Gribaldi, and De Niro stacked in her pedigree. I do anticipate her to be tall, since both her sire and dam are rather tall themselves.
As much as I would love to keep this girl, I think she will be really spectacular in the arena and will do very well competitively!

Netflix K.F. (Don Olymbrio/Tuschinski) 05/28/18
$15,000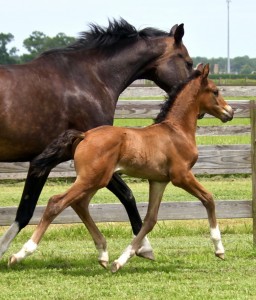 Netflix is the perfect name for this perfect boy! Such a cool horse with a great attitude and stellar movement. Netflix is by the popular stallion, Blue Hors Don Olymbrio (Jazz/Ferro) who took the dressage world by storm when he made his international breakthrough in 2017. Don Olymbrio is showing a great deal of talent in the more difficult movements of the Grand Prix, and his offspring are also proving to show great promise. I think Netflix is no exception! He simply floats across the ground with light-footedness and ease. He has such a presence about him!  
Netflix's mother, Diementa CL (Tuschinki/Rousseau) did very well in sport. In Holland she placed 20th overall in the 2012 Pavo Cup, ranking up there with big named stallions like Dream Boy, Don Tango and Dark Pleasure.  She then went on to earn scores in the mid 70's in the US at Training Level before becoming a broodmare.  Diementa's sire Tuschinski is by the highly sought after stallion Krack C — who competed in the international arena under rider Anky Van Grunsven; and her dam sire, Rousseau — who is a stallion that truly needs no mention!
As every breeder knows, so much of a good horse comes from a strong mareline. Netflix has the strength of a good mareline coming from both sides — with the famous "Bria" damline coming through in Don Olymbrio and the "ienta" mareline coming through his mother. Stacked with such a strong pedigree, plus his natural athleticism, this boy is destined for truly great things!

Nolivi K.F. (Olivi/Sir Sinclair) 06/08/18
$15,000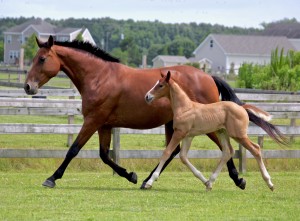 After several years of trying, we finally have another foal to offer for sale out of our very special mare, Aloha S.E. Typical of Aloha's babies, Nolivi K.F. is a superstar in the making. I have never seen a newborn foal with such a powerful hind end as this one. He truly came out of the womb sitting and carrying!!!! This big framed, powerful boy is also a true pleasure to be around. He loves people and is always coming to the gate to greet you. Aloha passes on such a great mind to all of her foals!
Nolivi is by Olivi (Jazz/Aktion), who has sired numerous Grand Prix offspring including the recently deceased UB40 (sire of Apache), who stood at Iron Springs Farm in Pennsylvania for many years. Olivi himself did very well competing at Grand Prix, however it is his offspring that are the true calling card. Olivi's offspring have earned him the incredibly high Dressage Index of 175 and he is ranked 2nd behind his sire on the KWPN Sire Rankings. He has sired many Keur/Elite daughters, two approved sons, and is the damsire for additional licensed stallions. His offspring have been consistent winners from the Young Horse classes up through Grand Prix in both Europe and the US. Olivi currently stands in the US at Hilltop Farm.
Nolivi's dam, Aloha S.E., is by the well-known stallion Sir Sinclair, who definitely put his mark on her by stamping such a fantastic temperament and quality movement. But Aloha's main success has been with her offspring. She consistently out-produces herself with spectacular foals. Her first foal, Encore (by Jazz) was Reserve Champion in the USEF/Markel Young Horse Championships for 4 Year-Old Dressage Horses, was 5th for the 5 Year Olds, and is currently competing successfully at Prix St. Georges, along with being listed on the USEF Developing List just last year (See News Page). Nolivi looks to be one that will gladly follow in his big brother's footsteps. Such a quality youngster that someone will be very lucky to have.
While I am not a big fan of selling foals in-utero, let me know your interest in a future foal, and I can put you down on the list to be the first one called once our 2019 foals hit the ground.