Nokia K.F.  (Grand Galaxy Win/Hotline) – 06/09/18
Not Currently For Sale
Top quality KWPN filly by the fantastic stallion Grand Galaxy Win (Apache/Jazz).  Grand Galaxy Win is an ultra-modern, lustrous black young KWPN stallion by Apache, the KWPN Grand Prix newcomer. He stands at Helgstrand Dressage in Denmark, and in fact is the first stallion in Denmark by Apache. Due to his type and movements, Galaxy is a young stallion with great potential. He is by the recognised elite mare Winner T, who is by the Grand Prix stallion and breeding magnate Jazz, and therefore, a full sister to the Prix St. Georges horse Volvo. In the third generation, we find the well-reputed Zeolit, sire of numerous Grand Prix offspring, e.g. Gomerant, Oscar B and Lawoel.
Nokia's dam, Dateline S.E., is by Hotline, who has also proven himself competitively at Grand Prix as well has having 9 approved sons and countless offspring successfully winning in the show ring. Dateline herself stems from the famed Bria mareline in Holland, where her great aunt was none other than the famous Olympic Barbria — competing successfully in the 1996 Olympics in Atlanta and helping to secure Team Silver for the Dutch.
Nokia has all the makings for a fantastic, modern dressage prospect. She has lovely movement, great joint articulation and reach. She is confident and as sweet as they come!  I think this is a super filly with the movement to take a professional or top rider all the way.  She is really going to be one to beat in the show ring! Nokia's bloodlines also make her a huge asset to any breeding program with Apache, Jazz, Contango, Doruto, Hofrat, Gribaldi, and De Niro stacked in her pedigree. I do anticipate her to be tall, since both her sire and dam are rather tall themselves.
As much as I would love to keep this girl, I think she will be really spectacular in the arena and will do very well competitively!

Nolivi K.F. (Olivi/Sir Sinclair) 06/08/18
$13,500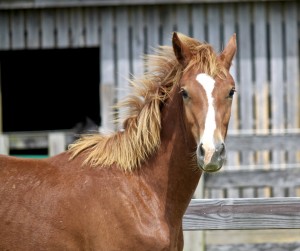 Nolivi is a fun-loving, charismatic horse by Olivi (Jazz/Aktion) out of a Sir Sinclair mare. Turning a year old in June, Nolivi is going to be the perfect Adult Amateur horse that loves his people. He is confident, bold and as sweet as they come! While Nolivi was bred for dressage, the jumping in his pedigree will allow for him to be successful in any discipline. Nolivi's flaxen mane and tail will make quite a statement in the arena, and his cool temperament will make him tons of fun both in the barn and under saddle!
Nolivi did super at his KWPN-NA Keuring in fall of 2017, being awarded the coveted First Premium ribbon with great comments from the judges!
Nolivi K.F. is by the great stallion, Olivi (Jazz/Aktion), who has sired numerous Grand Prix offspring. Olivi himself did very well competing at Grand Prix and through his offspring, has earned the incredibly high Dressage Index of 175 on the KWPN Sire Rankings. Olivi's grand-sire, Pion, also sired many international jumping offspring as well.
Nolivi's dam, Aloha S.E., is by the well-known stallion Sir Sinclair, who definitely put his mark on her by stamping such a fantastic temperament and quality movement. As a 5 year old, Aloha was the North American Champion of the DG Bar Cup for the KWPN-NA Keuring Tour, and went on to consistently out-produce herself with spectacular foals as a broodmare.
Nolivi is super fun. He is a fantastic youngster that someone will be very lucky to have, and a horse that will be game to do just about anything his owner might ask!