Mokabria K.F.  (Olympic Ferro/Hotline) – 06/04/17
SOLD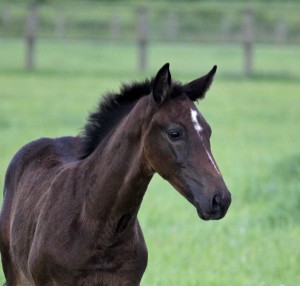 Top quality KWPN filly with Olympic bloodlines, rock-solid temperament and power of movement that has upper-level written all over it!
Mokabria's sire, Olympic Ferro, truly needs no introduction. Often referred to as the "Black Pearl", Ferro competed at the 2000 Olympics and assisted his team in achieving a team silver medal, with an individual score of 74.92%. As a three-year-old he was champion of his performance test at Ermelo, where he achieved the outstanding results of 6.5–step, 8.5–trot and 8.5 gallop. Ferro is known for truly stamping his offspring with good character and a powerful hind-end. He is a true foundation sire for many of the Dutch stallions competing today.
Mokabria's dam, Dateline S.E., is by Hotline, who has also proven himself competitively at Grand Prix as well has having 9 approved sons and countless offspring successfully winning in the show ring. Dateline herself stems from the famed Bria mareline in Holland, where her great aunt was none other than the famous Olympic Barbria — competing successfully in the 1996 Olympics in Atlanta and helping to secure Team Silver for the Dutch.
Mokabria has all the makings for a fantastic dressage prospect. She has lovely movement with a huge upward tendency. That and the fact that she has such a cool character, she is really going to be one to beat in the show ring one day! Mokabria's bloodlines also make her a huge asset to any breeding program with names like Ferro, Contango, Doruto, Hofrat, Gribaldi, and De Niro stacked in her pedigree. I do anticipate her to be tall, since both her sire and dam are rather tall themselves.
As much as I would love to keep this girl, I think she will be really spectacular in the arena and will do very well competitively!
Here is a video of Mokabria at her recent inspection at the KWPN-NA keuring at Iron Spring Farm.  Mokabria was invited back into the championship ring, where she came in 3rd overall with a fantastic score of 79 for movement and 79 for conformation.
Malibu K.F. (Hollywood DG/Tuschinski) 06/02/17
SOLD
Malibu is by the Rock Forever grandson, Hollywood DG and the first foal from our new mare, Diementa CL (Tuschinski/Rousseau).  I am very pleased with the quality of this filly.  She is quite modern in type, with legs that stretch to the moon and a refined body type.  She has tons of personality with such an inquisitive nature.  Malibu is super brave and athletic.  I am excited to see how she does under saddle, because her movement is just lovely.  She just floats along the ground. 
Malibu's mother did very well in Holland by placing 20th overall in the 2012 Pavo Cup, ranking up there with big named stallions like Dream Boy, Don Tango and Dark Pleasure.  She then went on to earn scores in the mid 70's in the US at Training Level before becoming a broodmare.  I can very easily see this pretty girl follow in her mother's footsteps one day!
While I am not a big fan of selling foals in-utero, let me know your interest in a future foal, and I can put you down on the list to be the first one called once our 2018 foals hit the ground.
If all goes as planned, our 2018 line-up will feature the stallions Olivi, Grand Galaxy Win and Don Olymbrio.  Fingers crossed for a successful and busy foaling season in 2018!!!