Piedmont K.F. (Koning DG/Sir Sinclair) 05/01/20
$14,000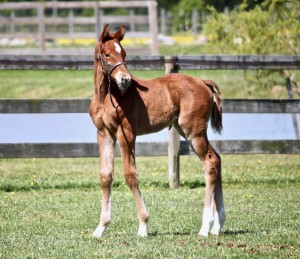 Piedmont K.F. is by Koning DG (Bordeaux/Jazz) out of our top producing mare, Aloha S.E. (Sir Sinclair/Wanroij)
This super strong, well-built colt has the absolute sweetest disposition I have ever seen. He practically put on his own halter from day one! He has a powerful, balanced canter, and I am already seeing the lovely trot that his mother, Aloha S.E., puts on her babies. This is going to be a very correct colt with the kindest of attitudes! He has a strong pedigree of performance horses, and a presence that seems to capture everyone that comes to the farm! What more could anyone ask for?
Piedmont K.F.'s sire, Koning DG, stands at DG Bar Ranch in Hanford, CA. Last year Koning won the CDS 4 Year Old Futurity Championship after being the top scoring stallion in the North American Stallion Testing Championships. Koning also received top scores at his DG Bar cup and IBOP test from the KWPN with a 9 for walk, 8 for trot, 9 for canter, 8.5 for ride ability, and 8.5 for talent! Koning's sire, Bordeaux, just recently received Keur status by the KWPN, and his dam, Darcy CL was the highest scoring mare at the Pavo Cup as a 4 year old, and then went on become the reserve Champion 5 Year Old at the USEF Young Horse Championships.
Piedmont's mom, Aloha S.E., passes on her strengths with her strong dam-line and movement. Aloha was North American Champion of the DG Bar Cup for 5 Year Old Dressage Horses at the 2010 Keuring Tour. She has had several successful foals in competition and at the keurings, with her oldest son, Encore (by Jazz) ranked 12th in the country last year at the Intermediare 1 level. (Ridden and owned by Amy Miller of Amy Miller Dressage in California).
This is going to be very special horse that I am super excited about. I just wish "he" was a "she", but alas, that is how breeding goes! Someone is going to be very lucky to have this special boy!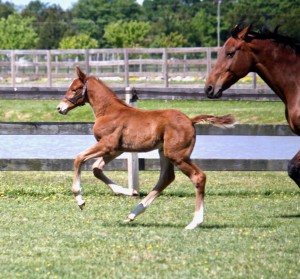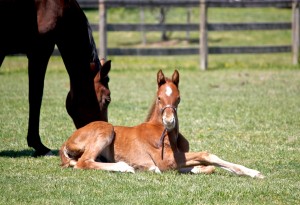 ---
Nolivi K.F. (Olivi/Sir Sinclair) 06/08/18
$18,500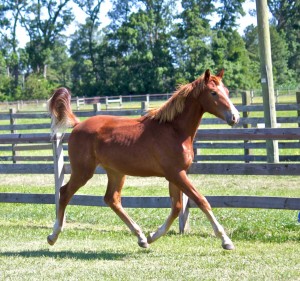 This charismatic rising two year old by Olivi (Jazz/Aktion) out of our prized mare, Aloha S.E. (Sir Sinclair/Wanroij), is turning out to be quite special!  He was born in 2018, received First Premium status at his KWPN-NA keuring as a weanling, and will be ready to start doing basic under saddle work next spring.
Nolivi K.F. loves his people.  He is confident, bold and as sweet as they come!  His flashy movement will make quite a statement in the arena, and his cool temperament will make him tons of fun both in the barn and under saddle!  Successful dressage horses stack both sides of his pedigree! Nolivi K.F. is by the great stallion, Olivi (Jazz/Aktion), who competed at Grand Prix himself, as well as sired numerous Grand Prix offspring. Because of his successful protege, Olivi has earned the incredibly high Dressage Index of 175 on the KWPN Sire Rankings. Olivi's sire, Jazz, is one of the most influential dressage sires in modern dressage breeding, ranking #1 on the 2019 WBFSH sire rankings for dressage. Nolivi's dam-sire, Sir Sinclair, is well known for passing along movement, talent and temperament to his offspring.  In fact, 2019 marks the fifth year in a row that Sir Sinclair has been named the #1 Sire of Dressage horses by the USEF for the 5th year in a row!
Nolivi's dam, Aloha S.E., is one of our most highly regarded broodmares.  As a 5 year old, Aloha was the North American Champion of the DG Bar Cup for the KWPN-NA Keuring Tour.  She has had foals that ranged from reserve national champion, site champion and first premium. Her oldest son by Jazz (owned and ridden by Amy Miller of Amy Miller Dressage) is currently schooling Grand Prix, was ranked 12th in the country for Intermediare 1, and has been on the USEF Developing list for several years in a row now.  Nolivi's grand-dam, Kadence by Wanroij, is one of the few mares in the US that have been awarded Preferent status by the KWPN.  Her influence is passed down to several generations of offspring that are currently competing successfully as top levels of dressage.
Nolivi K.F. is going to be a super horse for that special person to have fun with while moving all the way up the levels! Affordable young horse board available until he is ready to go under saddle. Contact us for updated videos and additional information on this wonderful boy!
Don't see what you are looking for?  Contact us at (757)589-1375.  We often have several youngsters available that are offered by our boarders, or upcoming foals that will also be available.